I saw this picture on my timeline last Monday and it perfectly describes what I've been experiencing since I started taking my music and health more seriously. Every year, well, every month now, I am changing; bettering my character and the people around me. Negativity is becoming so much easier to spot and control, and I can fully move all of my limbs without any pain.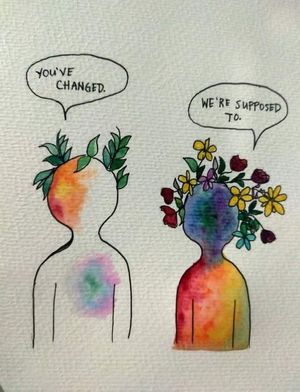 I've hit some huge milestones in my life and it hasn't been easy at ALL. One of the hardest things about changing and becoming better is having people congratulate you on YOUR progress and watching them choose not to make progress for themselves. Those people who choose not to make a change begin to question your character, asking questions and saying things like "Where you been?", "You don't talk to me anymore?", and my favorite line "She switching up on everybody". 
Well, to answer your questions and comments: I've been MIA, No I don't talk to you anymore, and Yes, I switched up on y'all. Let me explain...
Y'all weren't serious about anything. All y'all wanted to do was go to work, smoke a blunt, sleep, and leave your kids in front of the TV. When I invited you and your kids to the park, you complained about everything from the heat to the gas. 
Y'all didn't wanna learn anything. You were comfortable with the amount of (incorrect) knowledge you had and therefore, y'all became old and boring. When I invited you to come over and watch this video with me, you told me the video was worthless.

Y'all complain about everything. Y'all didn't want to take matters into your own hands. But I did, and when I advised you to do the same thing, you told me you would "Grow your way and I should grow mine". So guess what I did...
I SWITCHED UP! and you should do the same. I'm not dimming my light or waiting on nobody to get their life together anymore. I've put my life on hold for so many people for way too long. Enough of that. 
---
Brasianna Unykue is an Independent Artist from Dallas, TX. She makes beats, graphics, and marketing material. When she is not on Stage or in the studio, she is at the gym or tending to her children. Visit BrasiannaUnykue.com/booking to book Brasi for your next project.