Last week, I overhear CT Fletcher on my Alexa playlist say:
"Choose Ye this day, mothaf*cka, what will you be... Beast? or B*TCH"
He caught me by surprise because I'll tell anybody in a heartbeat I AIN'T NO B*TCH!
So when my alarm went off at 4:15 AM, getting up was a simple decision. Hard, yea, but simple. The baby didn't go to sleep until 2:50 AM y'all... I was tired. my body hurt. I could barely get my eyes all the way open.
But I made my decision... 2022? I ain't no b*tch.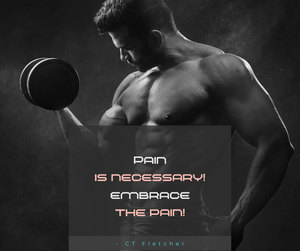 I got up, put on my clothes, grabbed my keys, and went to the car. It's the middle of January. It's cold outside. It's dark.
But I ain't no b*tch. And I ain't got to be one. When I got there, I found a bunch of other "ain't no b*tches" looking the same way I did.
My mat was flying all over the place. I didn't have any weights of my own. I barely got through the warm-up. I didn't finish one full rep at all, I got super hot and I had to take a break. I stopped a few times. It was exhausting. I wanted to throw up. My head was hurting. I cried... and I peed a little.
And I felt so dam good.
See everything in the paragraph above isn't something new. I just had a baby 4 months ago, so the physical pain of working out on that cold, dark morning didn't phase me. 
But what turned me into a beast was my desire to be like the other "ain't no b*tches", the GLADIATORS!
They were moms, veterans, tech junkies. Each one had a different story. Each had a different body. Everyone had their own vibe. Everyone was in BEAST MODE!
And I don't know if it was my own heart's desire or the community around me, but I felt my competitive nature kick in, and every time I lifted that 12 lb dumbbell above my head, I felt like Thor. 
I ain't no b*tch. I'm a beast. I don't complain no more and I can't listen to others complain. I spent enough time planning. Now It's time to execute. I loved Camp Gladiator from the bottom of my heart and I have so much more in store with these guys. Y'all stay tuned!
---